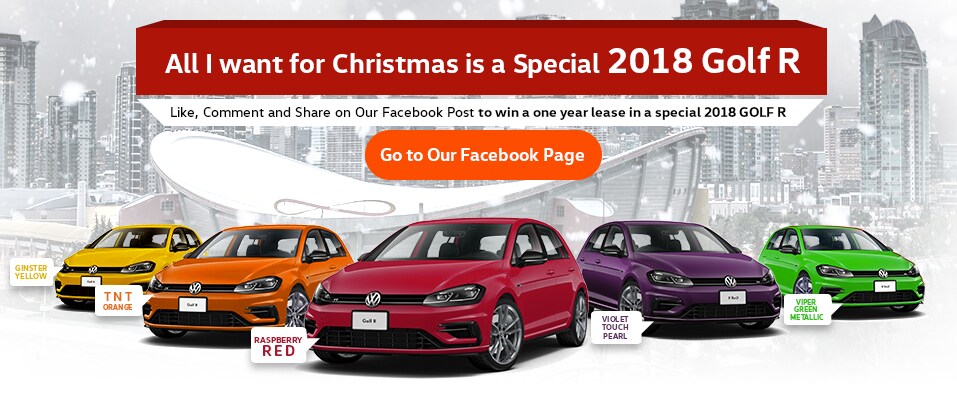 South Centre is excited to announce our Holiday contest! We will be giving away a one year lease (worth approximately $18,000) for a custom coloured Golf R.

Online users will be able to enter into the contest by going onto our Facebook page, finding the contest post which will be pinned to the top of the page called "All I want for Christmas is a Golf R". Users must then like the image of the Golf R that they want to win, tag a friend in that image that they would like to drive with, and then share the entire post on their page. Individuals can vote for all 5 of the colours if they want, but must follow a similar process for each colour. There will be 5 colours to like and comment on. The colour with the most combined shares and comments will win - and all individuals that commented and liked the post, while also sharing the entire post will be entered to win the lease.

The following colours to choose from are Raspberry Red 9348, TNT Orange 9292, Violet Touch Pearl 9074, Ginster Yellow 9106, Viper Green Metallic 9070. January 2nd will be the contest ending. Furthermore, additional contest posts will be posted throughout December. Follow the instructions of these posts to enter for your chance to win again, supplement to the main Facebook post.
Rules:
·     The winning vehicle may not be available as of the draw date.  Delivery may be delayed due to production constraints.
·     The winner must qualify for a one year, pre-paid lease through Volkswagen Finance.
·     Winner is responsible for meeting insurance and registration requirements as outlined in the Volkswagen Finance lease agreement. 
·     Not cash alternative is available.  If the prize is declined, or the winner does not meet the requirements above, the prize will be forfeit. 
·     No purchase is necessary, entrants must be 18 years of age as of the draw date to claim their prize.
·     Employees from Shostak Automotive, South Centre Volkswagen and Volkswagen Canada are exempt. Immediate family is also exempt from winning this lease.