2018 Volkswagen Tiguan: the Perfect Compact SUV
December 06 2017,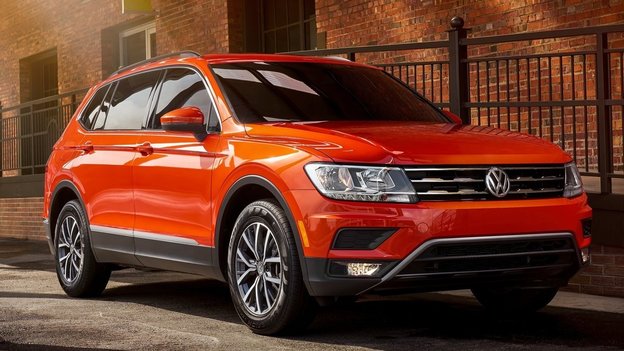 The Volkswagen Tiguan has always been known as the most enjoyable and dynamic compact SUV in its class, but it wasn't necessarily known for being spacious and versatile. The fact that it was born in Germany and engineered for those who want to have fun behind the wheel still made it quite popular and sales have been very good, but Volkswagen knew that the next-generation Tiguan needed to improve versatility-wise.
Looking at the 2018 Volkswagen Tiguan, we can say: mission accomplished. VW's compact SUV features more space than ever before and a lot more versatility as well. Heck, there's even a third row of seats. And you know what's even better? The new Tiguan is still a blast to drive!
More Interior Space and Versatility in the 2018 VW Tiguan
Let's address the biggest change made to this new Tiguan generation: the added interior space. Thanks to an overall increase in length, width, and wheelbase made possible by the use of VW's new MQB modular platform, the new Tiguan gains significant interior space for both passengers and cargo.
In Canada, we are currently only getting the extended-wheelbase Tiguan which features an available third row of seats, and a cargo area that can reach 2 080 liters when you lower the rear seats in the five-passenger version. With all seats in place, you get 1,065 liters of space for your bags. If you opt for the seven-seat model, you get between 340 liters and 1,860 liters.
Ultimately, the new Tiguan is now 25 % more spacious than the outgoing model, and it is now one of the most spacious models in its segment. It is also one of the few compact SUVs to offer a third row of seats, which means that you can transport up to seven passengers if you go with this option.
A Fuel-Efficient Turbocharged Engine for the 2018 Volkswagen Tiguan
The 2018 Volkswagen Tiguan is powered by just one engine at the moment, but most will agree that it provides such an impressive combination of power and efficiency that VW doesn't really need to expand its engine lineup in the new Tiguan.
Its turbocharged four-cylinder 2.0-liter engine delivers 184 horsepower and 221 pound-feet of torque, more than most engines in the compact SUV segment. This engine is paired with an 8-speed automatic transmission, and 4Motion all-wheel drive is available. According to Volkswagen, the 2018 Tiguan's average fuel economy rating will be less than 10 liters per 100 kilometers.
Come and discover the brand new 2018 Volkswagen Tiguan today at Lethbridge Volkswagen and see why its impressive blend of comfort, versatility, performance, and agility make it the perfect compact SUV.