2019 Volkswagen Jetta unveiled at the North American International Auto Show
January 31 2018,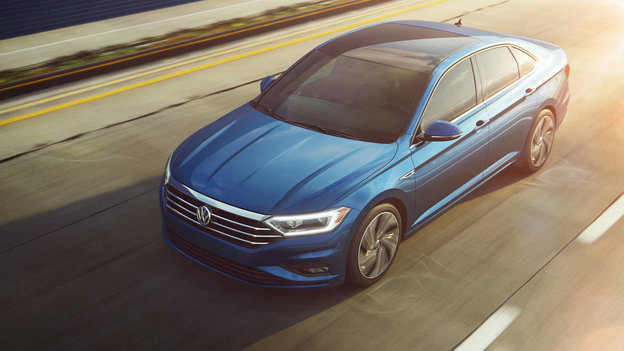 It was one of the most highly-anticipated models to be unveiled in Detroit, and it did not disappoint. It's the 2019 Volkswagen Jetta, and it has been improved in every single possible way. Featuring a new design, more technology, more interior space, and the same highly-efficient turbocharged four-cylinder engine, the 2019 Volkswagen Jetta is the most refined and improved Jetta ever. For buyers looking for a compact sedan that sets the bar high, the new Jetta is the way to go.
New 2019 Volkswagen Jetta has certainly evolved
The first thing to note about the 2019 Volkswagen Jetta is that it is now built on Volkswagen's brand new MQB platform which also serves as the starting point for the new Volkswagen Tiguan and Volkswagen Atlas. This new platform serves many purposes, but in essence it helps makes the vehicle that is built on it more stable, more dynamic, more comfortable, and more refined.
The new 2019 Volkswagen Jetta will feature a host of safety technologies and driver assistance systems that include adaptive cruise control, lane departure warning and assist, blind spot monitoring, automatic braking, and much more.
Inside, buyers will get more interior space, and a lot more refinement as well. Top-of-the-line 2019 Volkswagen Jetta models will feature things like a 12.0-inch virtual cockpit, leather seats, a navigation system, Apple CarPlay and Android Auto, and a host of other features as well. Passenger legroom has been improved, and so has overall interior and cargo space.
Under the hood, the 2019 Volkswagen Jetta will be powered by a 1.4-liter turbocharged four-cylinder engine that delivers 147 horsepower and 184 pound-feet of torque. You can look around if you wish, there is no other vehicle that offers that much torque with its entry-level engine the 2019 Jetta's segment.
We will know more about the 2019 Volkswagen Jetta including its starting price in the upcoming months. In the meantime, contact us today at South Center Volkswagen to learn more!