Three things you get in the 2019 Volkswagen Tiguan Trendline
December 30 2018,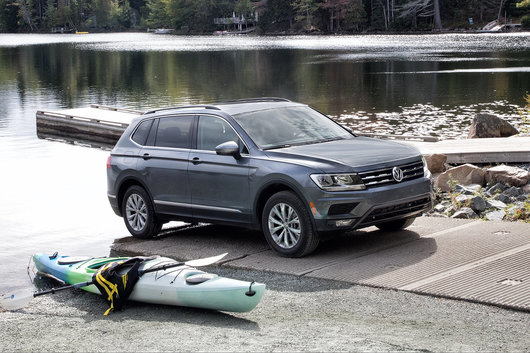 The Volkswagen Tiguan was completely redesigned less than two years ago and quickly became a very popular vehicle among Canadians. Offering some of the most advanced technologies you can find in a compact sport utility vehicle, the new Tiguan also offers a ton of value to buyers.
Looking for space, safety, connectivity, and driving pleasure? You'll find it in the new 2019 Volkswagen Tiguan. Let's take a look at the entry-level Trendline version with three things it offers buyers.
A powerful turbo engine
The 2019 Volkswagen Tiguan offers buyers a standard turbocharged 2.0-liter engine developing 184 horsepower and 220 pound-feet of torque. Paired with an 8-speed automatic gearbox, this is one of the more powerful standard engines you'll find in this segment.
For buyers looking to have fun behind the wheel of their vehicle, or buyers who simply want to always have enough power under their right foot, it's hard to do better than the new Tiguan.
Impressive connectivity
The 2019 Tiguan features standard Apple CarPlay and Android Auto features as well as MirrorLink. All of this is housed in a 6.5-inch touchscreen which provides a touch of added luxury to the Tiguan's interior.
Great value
The 2019 Volkswagen Tiguan starts at just $29,225 and comes with plenty of standard equipment including 17-inch wheels and LED daytime running lights. You also get heated seats and heated windshield washer nozzles when you opt of the Convenience package, and you can even get an extra third row of seats for just 750 $.
There's truly a lot of value found in the new 2019 Volkswagen Tiguan. You'll get space and versatility as well as the latest active safety features. To learn more about the new Volkswagen compact SUV, contact us today at South Center Volkswagen.