Volkswagen announces the arrival of the Atlas Cross Coupe
August 31 2018,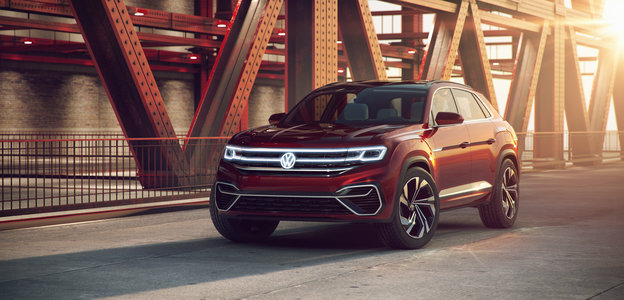 When Volkswagen introduced the Atlas Cross Coupe concept at the last car show in New York, it probably didn't expect the model to gather so much attention.
The Atlas Cross Coupe was one of the most discussed models at the show and one of the most prominent as well. The positive reaction seems to have convinced Volkswagen to put the Atlas Cross Coupe in production. The first units should arrive in 2019.
We do not have all the details about the Atlas Cross Coupe yet, but we know it will be built on the same platform as the current Atlas with three rows of seats. We also know that it will be powered by a 3.6-liter V6 engine and possibly a hybrid engine as well. An 8-speed automatic transmission already used on several Volkswagen models will also be offered.
With the Volkswagen Atlas Cross Coupe, we get a sportier and more dynamic SUV that is nevertheless versatile and spacious. The model will be positioned between the Tiguan and the Atlas in the Volkswagen range.
As we wait for the arrival of the new Volkswagen Atlas Cross Coupe, contact us today at South Center Volkswagen to find out more about the other SUVs in the Volkswagen range.