Volkswagen unveils hybrid-powered Atlas Cross Sport in New York
March 30 2018,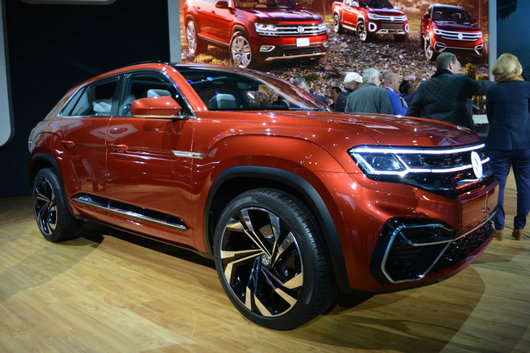 The Volkswagen Atlas Cross Sport is officially a concept vehicle, but boy does it look like its ready to hit the road. That has many people thinking that this concept is actually going to end up being a production model in the near future. If that's the case, prepare to fall in love with the brand new Volkswagen Atlas Cross Sport Concept.
Two hybrid engines for the new Volkswagen Atlas Cross Sport
The reason many believe the Atlas Cross Sport to be a preview of an upcoming production model is that its design as well as its engine lineup aren't too far-fetched. Indeed, most concepts have ridiculous designs that just aren't realistic for a production vehicle, or their engines could never be built in any sort of sustainable way.
That's not the case with this new Volkswagen Atlas Cross Sport. For starters, it features two engines which is very rare in a concept vehicle. The first is a plug-in version which pairs a 3.6-liter V6 with two electric motors. The gas engine is currently found on the 7-passenger 2018 Atlas and makes 276 horsepower and 266 pound-feet of torque. This engine is paired in the Atlas Cross Sport with a 54-horsepower front electric motor while a rear electric engine adds 114 horses. Total output is 355 horsepower which is good enough to get the Atlas Cross Sport to 100 km/h in just 5.4 seconds.
Moreover, an 18 kWh battery makes it possible to drive for about 42 kilometers without needing a single drop of fuel.
The second engine is a hybrid variant with a 2.0 kWh battery. It doesn't allow full-electric functionality, but it still makes 310 horsepower and will get the Volkswagen Atlas Cross Sport to 100 km/h in just 6.5 seconds.
Inside, the Volkswagen Atlas Cross Sport's interior seems taken right out of the current Atlas which adds to the speculation that we'll soon see it on the road. Contrary to the current Atlas, the Cross Sport has only five seats, but it's design is a lot sportier and there's still a ton of space in the back. There's also the 12.3-inch digital cockpit behind the Cross Sport's steering wheel.
We're not 100 % sure that Volkswagen will bring the Atlas Cross Sport to market, but we certainly think it would be a good idea to do so. To learn more, contact us today at South Center Volkswagen!