Volkswagen unveils new pickup concept in New York City
March 30 2018,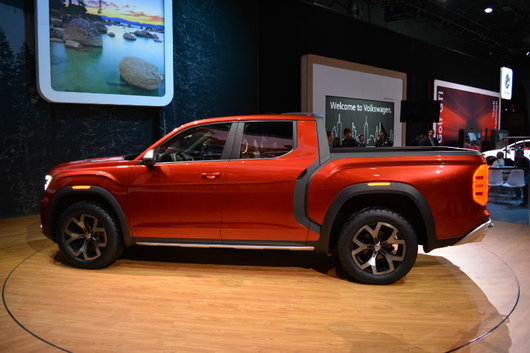 Volkswagen currently offers a pickup, but it's not available in North America. Elsewhere, however, the Volkswagen Amarok is quite popular. That popularity may incite VW to decide to eventually offer a truck to Canadian consumers, and that truck may just be based on the Atlas Tanoak Concept unveiled this week at the New York City International Auto Show.
A powerful V6 engine for the Volkswagen Atlas Tanoak Concept
Although the Atlas Tanoak is a concept, it really doesn't seem to be too far from being ready for production. Indeed, its exterior is certainly modern and futuristic, but it isn't over the top. In other words, this vehicle could actually be produced with minimal alterations to the exterior. Same goes for the interior where we basically find a more modern and advanced version of the current Atlas' cabin.
Under the hood, the Volkswagen Atlas Tanoak gets a 3.6-liter V6 engine that delivers 276 horsepower and 266 pound-feet of torque. Yes, this is the same engine that is featured in the top-of-the-line Atlas.
The new Atlas Tanoak also has a unique tailgate which can adapt to longer objects, thus making the VW pickup concept as practical as it is stylish.
We don't know for sure if VW is planning a new pickup for North America, but if they are we sure hope it's based on the new Atlas Tanoak.